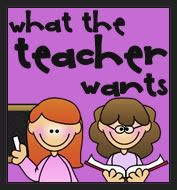 The amazing ladies at What the Teacher Wants are doing the GREATEST giveaway yet!!
$100.00 to The Container Store! I looooove looooove looooove this store and could easily spend thousands of dollars!!!
I sure do hope I win! If you want a chance just jump over to their blog at
http://whattheteacherwants.blogspot.com/
Or don't because I want to win!
Haha, hope you all are having a great week! I really hope to dive a little deeper into this creating my own blog thing VERY soon! I am an avid blog stalker to all my other favorite teacher blogs!